The Ravens will start Gus Edwards' activation clock, marking a good sign for his near-future availability. Edwards will return to practice this week, John Harbaugh said.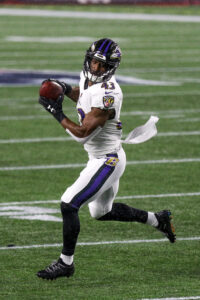 From the point Edwards begins practicing, Baltimore will have 21 days to move him from the reserve/PUP list to its 53-man roster. If that does not happen during this timeframe, the fifth-year running back will miss the 2022 season. While the Ravens saw an activation window close last year (Derek Wolfe's), Edwards has been trending in the right direction for a bit. The oft-used backup said in mid-September he was close to a return from the ACL tear that wiped out his 2021 slate.
This news does come after Justice Hill suffered a hamstring injury that Harbaugh confirmed will cause the well-performing backup to miss time, via Jamison Hensley of ESPN.com (on Twitter). With Edwards and J.K. Dobbins' recoveries from full-season injuries generating most of the publicity this position group produced this offseason, Hill also returned after missing all of 2021. Hill's Achilles tear suffered just before last season made the Ravens the rare team to lose its top three backs for an entire season.
Dobbins has been a bit slower to bounce back, but Hill has played well since returning. The 2019 fourth-round pick, whom the Ravens waived with an injury designation in September 2021, is averaging 6.6 yards per carry (19 totes, 125 yards) and has been the team's top non-Lamar Jackson rusher. After being largely a nonfactor in the Ravens' backfield during his first two seasons, Hill could be a key cog for the injury-plagued group. But he will need more rehab time, which reopens the door for Edwards to make an immediate impact.
Edwards, 27, has averaged at least five yards per handoff in all three of his healthy seasons, and the Ravens rewarded him with a three-year, $12.38MM extension in June 2021. As the Ravens await Edwards' first game on that deal, Dobbins continues to be steadily reintegrated after returning from his extensive set of injuries. Dobbins has 20 carries for 64 yards and a touchdown in two games. The Ravens have Kenyan Drake and Mike Davis in place as Dobbins' backups.